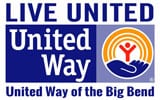 On February 11, 1943, nine concerned citizens chartered United Way of Leon County. It was founded with the purpose of raising and distributing funds to charitable and character building agencies. United Way of Leon County broadened its scope on June 20, 1990, incorporating seven neighboring counties, and changed names to United Way of Big Bend.
Over the years, United Way of Big Bend has remained true to its founding goals. We are dedicated to supporting the greatest variety of human service agencies in the local area, helping people from all walks of life and income groups, and creating collaborative strategies that result in long-lasting, positive change.
This is one of many examples that exhibit our website design capabilities. Learn more about how we can assist you in creating your ideal website!