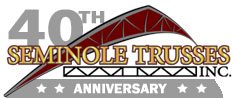 For over a quarter century, Seminole Trusses, Inc., has been providing quality products and exceptional customer service to the residential and commercial construction industry. In 1978, the Company began by focusing on single-family custom homes in the local market. Since that time, Seminole Trusses has extended its market to include commercial projects throughout the Southeastern United States. With over 100 years in combined management experience, the team at Seminole Trusses is committed to serving the builder.
Located in Gadsden County, Florida, – just minutes from the state capitol – Seminole Trusses has the leadership, personnel and facilities to meet the needs of our customers. For truss design and engineering, we have the expertise builders require. We utilize the latest innovations in computer hardware and software to design, engineer, produce and deliver our products. Seminole Trusses manufactures a full line of building components including metal connected, wood roof and web floor trusses.
In 1993, Seminole Trusses moved to its current facility located on 30 acres of land off of the Highway 90 West/I-10 interchange in Midway. Utilizing over 60,000 square feet of covered space, we currently have three roof truss and two floor truss assembly lines, as well as a building materials plant.
We are proud of our company's history and take pride in its reputation as one of the industry leaders in the southeast. We look forward to serving you with excellence and integrity.
This is one of many examples that exhibit our website design capabilities. Learn more about how we can assist you in creating your ideal website!