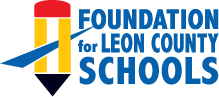 Our Mission: To bring enriching programs and resources to Leon County Schools through business, individual and community engagement; increased public awareness; and dedicated fundraising.
The Foundation for Leon County Schools (Foundation) was established in 1986 when forward-thinking business, community, and education leaders came together with a common goal of enhancing educational opportunities and experiences for Leon County students in order to deliver a superior education.
Under the leadership of its volunteer Board of Directors, the Foundation remains focused on enhancing programs that include teacher mini-grants, dropout prevention, scholarships, teacher training, Science Technology Engineering and Math (STEM) development, and wellness.
This is one of many examples that exhibit our website design capabilities. Learn more about how we can assist you in creating your ideal website!