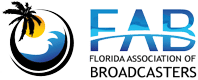 FAB is a non-profit corporation chartered by the State of Florida to promote cooperation and understanding among broadcasters, both radio and television, as well as among businesses and other organizations associated with the broadcast industry.
FAB fosters and promotes the development of the art of broadcasting, and encourages and promotes customs and practices which are in the best interest of the public and the broadcasting industry. FAB protects its members in every lawful and proper manner from injuries and unjust actions, and acts as the contact with other broadcast associates across the Nation.
This is one of many examples that exhibit our website design capabilities. Learn more about how we can assist you in creating your ideal website!