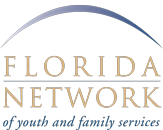 The Florida Network of Youth and Family Services, Inc. (the Florida Network) is a not-for-profit statewide association representing 29 agencies that serve homeless, runaway and troubled youth ages six and older and their families.
For more than 40 years, the Florida Network has provided services as a "Children and Families in Need of Services" (CIN/FINS) agency, as defined by Florida Statute, in order to prevent juvenile delinquency and encourage good choices and healthy family relationships.
This is one of many examples that exhibit our website design capabilities. Learn more about how we can assist you in creating your ideal website!