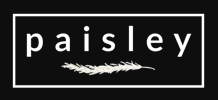 The Paisley concept is all about fewer ingredients and the highest quality ingredients available. We are embracing the rule of seven ingredients or less! No high fructose corn syrup, real butter and, of course, olive oil!
It's amazing once you are used to seven ingredients or less, it's hard to compare another style of cooking, especially at home. We want to inspire our friends and family with our concepts from our kitchen to yours.
This is one of many examples that exhibit our website design capabilities. Learn more about how we can assist you in creating your ideal website!