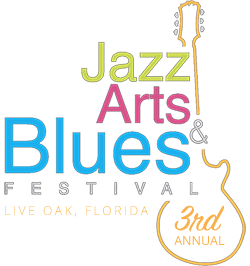 The Third Annual Jazz, Arts and Blues Festival is set for October 21 and 22. Held in historic Live Oak, Florida the festival features an exclusive music lineup and artist exhibits as well as food and beverage vendors.
Thousands of music lovers from North Florida and South Georgia gather to enjoy the friendly atmosphere and exquisite arts. This year's event plans to draw an even larger crowd with local residents and visitors. With a beautiful downtown park setting and cool fall temperatures, we invite you to an unforgettable music experience. Bring your family, friends and, in true festival-style, a picnic blanket!  Two-day general admission is free, VIP seating is available.
This is one of many examples that exhibit our website design capabilities. Learn more about how we can assist you in creating your ideal website!